Tripawds is a user-supported community. Thank you for your support!
I wish things were going a different direction. I wish Raz were still the curious, pain-free tripawd she was a couple weeks ago. I wish cancer didn't exist. But unfortunately, I don't have a fairy godmother or a genie in a bottle.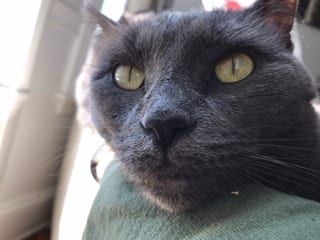 This has been quite the whirlwind (and expensive) week. Last Tuesday, Raz had a particularly long painful episode. When she is trying to snuggle, but can't find a comfortable position, she growls and hollers out of frustration and pain. This one lasted about 10 minutes. I called my regular vet, and they recommended I bring her into ER. The location of her tumor is near her spine, so they wanted someone to look at her and make sure she was okay. The ER vet we got was young and curt with us, simply telling us we should just increase the pain meds. It made me feel like I was paranoid and crazy for bringing my cat in.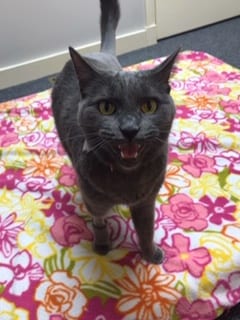 Two days later I brought her to her second acupuncture session. She was hotter to the touch than usual, and as soon as the doctor was finished with the acupuncture, her body felt MUCH cooler. Incredible! They did take her temp after the session and it was 103.5. I wish we would have checked it before to see if it made a difference in her internal temp as well. Raz is already on a small Wei Qi tea pill, and this time I picked up some "Body Sore" powder which is supposed to help with pain and inflamation. It's very stinky…I got some empty pill caps that I put the chinese herbs and her pain medicine into so we limit the number of medications she needs to take.
Raz didn't have much of an appetite last week, since Tuesday at least. I'm not 100% sure who eats what in the morning since I feed them and leave. But at night, she wasn't eating a lot. I started mixing her food with bone broth to get her some nutrients. I guess if they have a fever, their appetite is significantly lower.
Between the fever and lack of appetite, our regular vet wanted to see us on Saturday. Her temp was 104.5 this time. The doctor believes that the little bumps we thought were stitches beneath the surface are little tumors growing back. They're still perplexed by this fever, but they gave her a long-lasting antibiotic and sent me home with Oncior, an anti-inflamatory. We are upping the gabapentin to 75mg, and I'll be picking up the buprenorphine tomorrow to start on that again.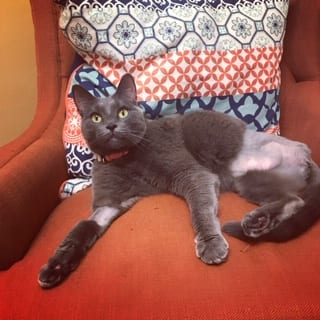 Raz's spark has been slowly going out since last week through all of this. She isn't interested in playing like she was in the few weeks after surgery, she is hiding more instead of snuggling, and she stares off into the distance at times. I'm prepping myself and my roommate to say goodbye soon, unless something miraculous happens this week.
I wish things were different.
With love,
Cassie (meowther)
Raz (tripawd princess)
Kho (monkeybutt prince)